Mobridge Regional Hospital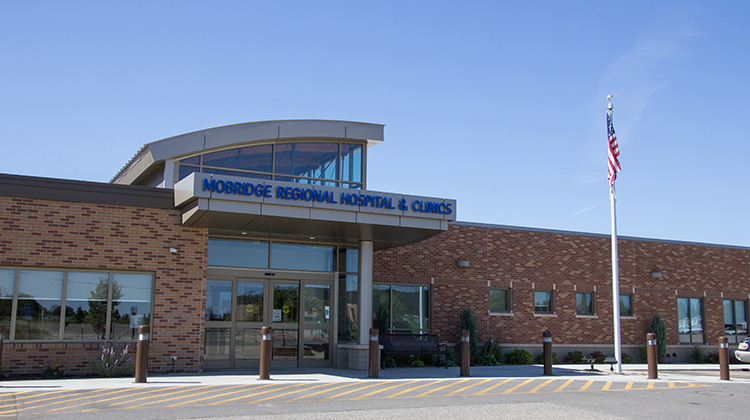 1401 10th Ave W
Mobridge, SD 57601

Phone: (605) 845-3692
Hours of Service - 24 hours/day
Medical Records FAX: (605) 845-8252
General FAX: (605) 845-8172
For over 60 years, Mobridge Regional Hospital has provided comprehensive medical care and related health services to individuals and families in Mobridge and the region of North Central South Dakota. We pledge to provide you with prompt, courteous service beginning with your initial call and continuing throughout your treatment. Our professional staff is ready to meet your health care needs.
Services offered at this location
Click on the name to learn more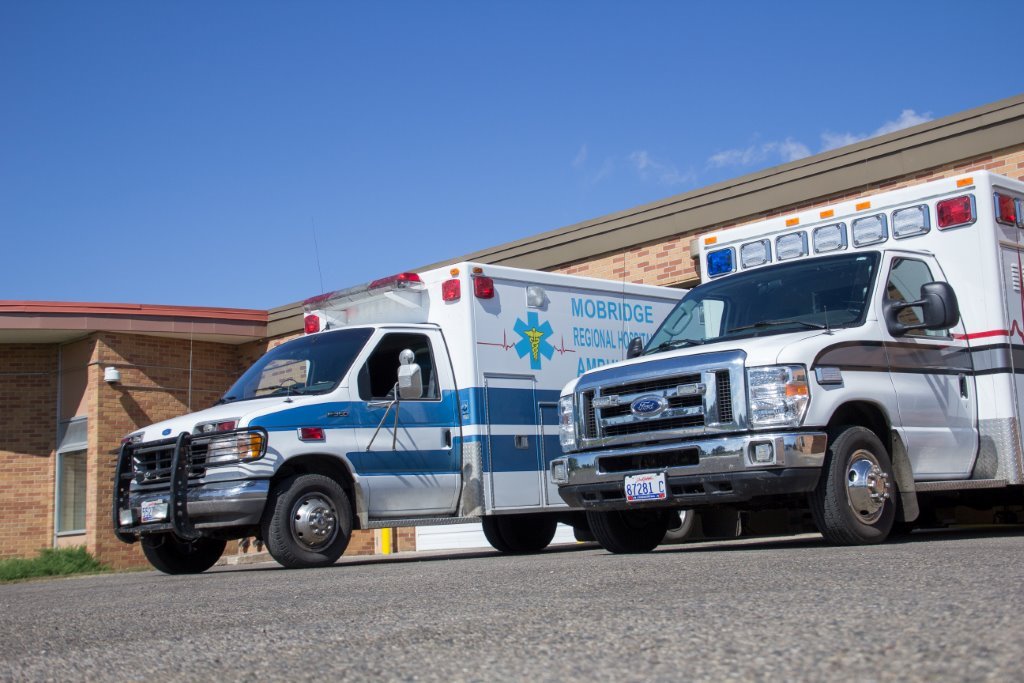 The Mobridge Regional Hospital operates a 24 hour ambulance service staffed by Emergency Medical Technicians, Advanced Emergency Medical Technicians and Paramedics. These qualified individuals are certfied in Pre-Hospital Trauma Life Support, Pediatric Emergencies for Pre-Hospital Providers, Advanced Cardiac Life Support, Advanced Life Support for Obstetrics, Neonatal Resuscitation and Advanced Life Support for Pediatrics. They are committed to continuous professional development and on-going training to provide a critical community service. Paramedics offer hundreds of hours per year of continuing education to Mobridge and the surrounding ambulance services and provide CPR training to Mobridge and the surrounding communities.
Mobridge Regional Hospital Ambulance service has been recognized in the past for its outstanding dedication to service and quality care by being named "Ambulance Service of the Year" by both Sanford Health and the South Dakota EMT Association. They have received numerous other recognitions and awards from organizations such as the SD Emergency Medical Services for Children for excellent public education and awareness in the care of children and St. Alexius Medical Center for excellent trauma care.
Employees of the ambulance service stay involved in the latest developments in emergency medicine by holding positions in the SD EMT Association, the SD Instructor/Coordinator's Society and the St. Alexius/Bismarck State College's Paramedic Program.
Three modern ambulances are fully equipped with the latest in advanced life support equipment for diagnosing and treating the ill and injured. They are available within minutes for anything from an emergency call to a routine transfer. Mobridge Regional Hospital can also arrange air ambulance transport based out of Fargo, Sioux Falls or Minneapolis for long distance transports.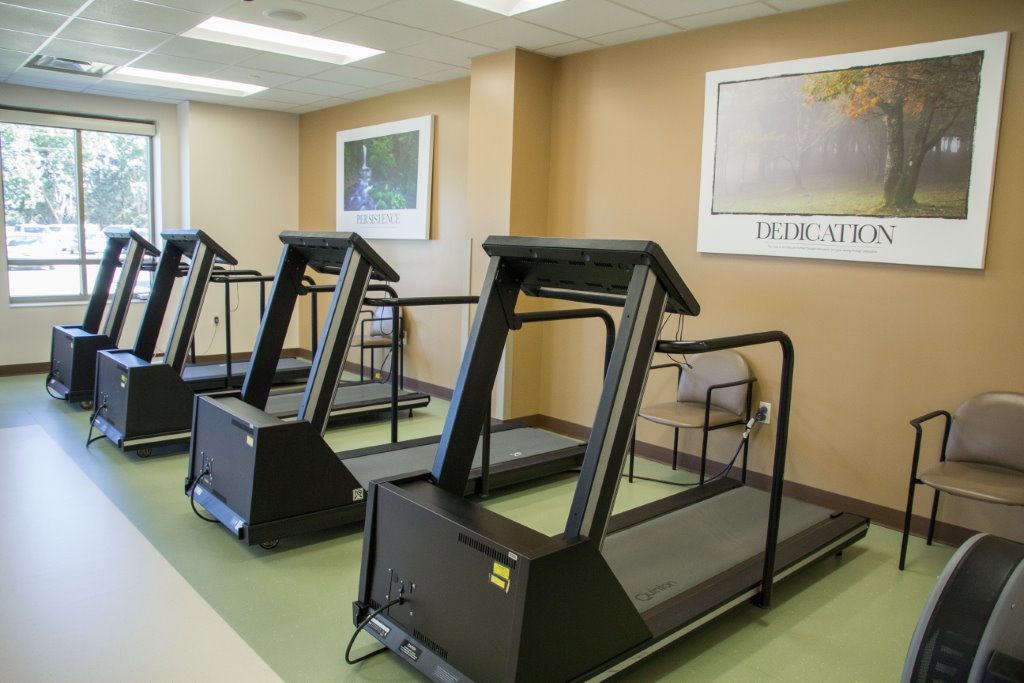 Cardiac Rehabilitation is a program designed to assist persons with coronary artery disease achieve their optimal level of cardiovascular fitness, energy, health and sense of well being. This is accomplished through a program of supervised exercise, education and support from Rehab staff.
Heart disease can be of great concern not only to the individual, but also to their family. Therefore, we encourage family members to participate in the education process. Phase II consists of exercising on an outpatient basis using different types of equipment while being monitored for exercise tolerance.
Individuals who have had a heart attack, have undergone coronary artery bypass surgery, coronary artery balloon angioplasty and/or stent placement, heart valve surgery, or who have stable angina are eligible for participation. A referral from your physician is required to start this program. Cardiac Rehabilitation is covered under Medicare and most insurance plans.
Adult Fitness is a physician referral program for individuals with risk factors such as diabetes, hypertension, obesity or arthritis.
Benefits of Exercise:
Improves muscular strength
Promotes a sense of well-being
Improves the efficiency of the heart, lungs and circulatory system
Helps with stress management
Helps in maintaining or losing weight
Builds stronger bones
Helps lower elevated blood pressure
Increases self-confidence
Can improve blood lipid profiles (cholesterol)
For more information contact Deb Brekke, RN, BSN, Director of Cardiopulmonary Rehab at (605) 845-8134.
We work with individuals, families and communities providing services, which assist in developing and maintaining a healthy lifestyle and therefore a higher quality of life. Our office also provides:
Immunizations for infants and children.
Family planning services, which includes annual medical exams, reproductive health, contraceptive methods and sexually transmitted infectious education and counseling.
WIC: A supplemental food and nutrition education program for eligible women, infants and children. Vouchers are provided to purchase certain healthy foods.
Foot care for Seniors.
Information on healthy pregnancy.
Car seats and pack and plays to qualifying individuals.
Visiting Nurse Service
Highly skilled care that comes to you at home. Our mission is to help our patients live more independently with a higher quality of life. We work with your physician to carry out their orders and serve as their eyes and ears. Most importantly, we deliver compassionate care from the heart where you want to be cared for most – right in the comfort of home.
We are here to help! Call us or stop in for more information! 605-845-8127
Mobridge Regional Hospital and Clinics recognizes and supports diabetes self-education as an essential part of providing quality care to the people we serve. Our program is nationally approved by the American Diabetes Association for Diabetes Self-Management Education.
"Living Well with Diabetes" Education for Type I, Type 2 and Gestational Diabetes is provided by an RN Diabetic Educator and a Certified Registered Dietitian. Our individual sessions include:
Comprehensive Management Skills
Management of Diabetes During Pregnancy
Nutrition Management and Carb Counting
Self Blood Glucose Monitoring
Medication Management and Insulin Instruction
Acute and Long Term Complications
Insulin Pumps
The Self-Management requires a referral from your Health Care Provider. Assessment and education costs vary according to your needs. You are billed for the amount of time you spend with the Educator. Most insurance companies and Medicare Part B cover these costs after deductibles are met. Some companies require pre-authorization. Ask about diabetes self-management training not diabetes education. If you have questions about you coverage, contact your insurance company prior to your appointment to determine your coverage.
For more information contact Deb Brekke RN, BSN Diabetic Education Coordinator Cardiopulmonary Rehab Director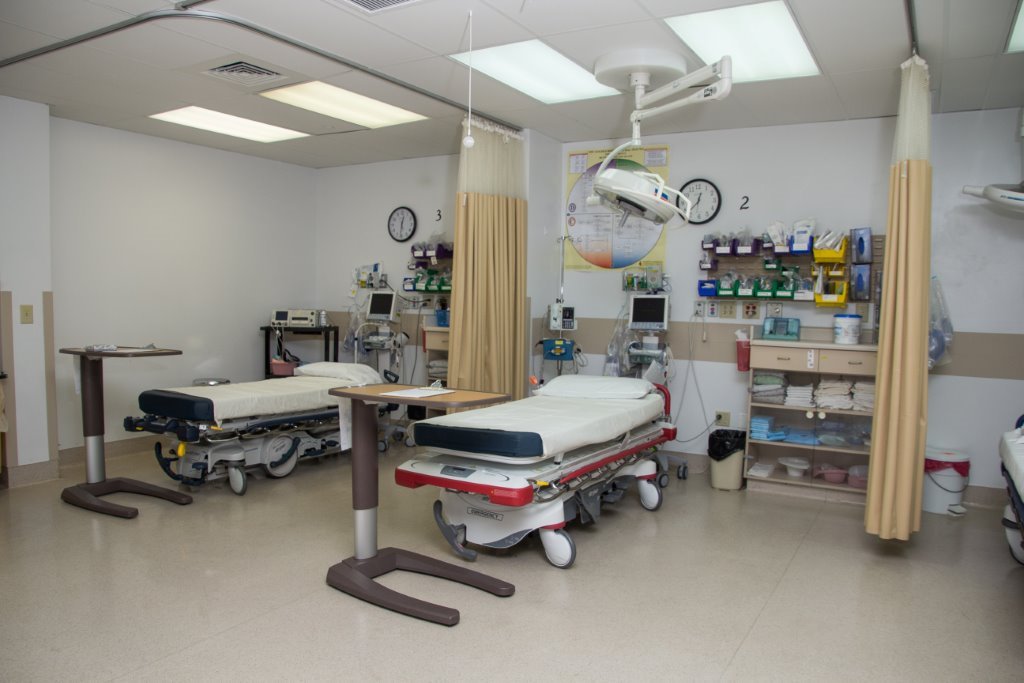 In 2008 Mobridge Regional Hospital received notification from the North Dakota Department of Health, Division of Emergency Medical Services, as a state designated Level IV Trauma Center. To achieve this status the Mobridge Regional Hospital had to meet the rigorous criteria specific to the North Dakota Trauma Plan.
Trauma facilities provide advanced trauma life support before patient transfer in remote areas where no higher level of care is available. Optimal care in rural areas can be provided by skillful use of existing professional and institutional resources supplemented by guidelines that result in enhanced education, resource allocation, and appropriate designation for all levels of providers. A level IV trauma facility must have a good working relationship with the nearest Level I, II, or III trauma center.
Mobridge Regional Hospital provides emergency service 24 hours a day, 7 days a week and is staffed by nurses specifically trained in emergency medicine. A physician and/or physician provider are always on call and available to treat unexpected acute health emergencies. The emergency room is designed to provide safe care through various forms of accessible leading edge monitoring and treatment equipment. In addition to trauma and life-support training, the emergency team is trained in Advanced Cardiac Life Support (ACLS), Trauma Nurse Core Curriculum (TNCC) and Pediatric Advanced Life Support (PALS).
Our family centered birthing suites provide the ideal setting for mother and baby to experience the miracle of childbirth. Soothing and beautiful, our state-of-the-art birthing suites provide relaxation with a whirlpool tub and a spacious area with comfortable surroundings to make you feel right at home.
The entire staff is dedicated to making your childbirth experience as safe and comfortable as possible. Qualified staff is available to help with every phase of a family pregnancy; from education including labor and delivery, newborn cares, and care of the mother postpartum and beyond. Obstetric Registered Nurses are certified in Electronic Fetal Monitoring, Neonatal Resuscitation, and Advanced Life Support in Obstetrics.
For a tour or questions about our OB department please contact the OB Supervisor, Kayla Wolff, RN, at (605) 845-8120.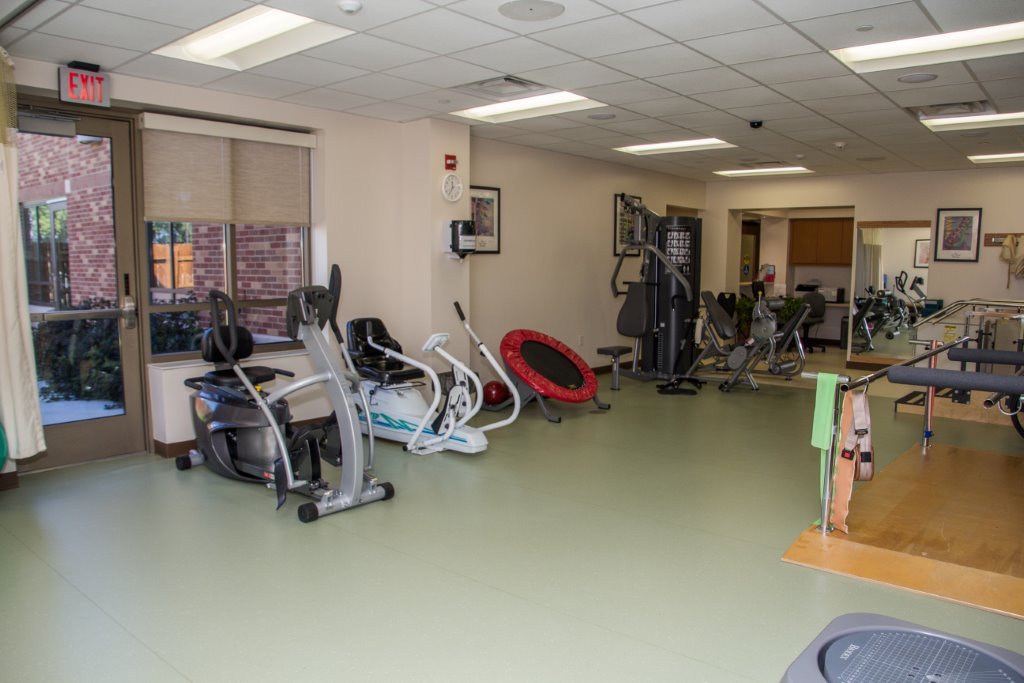 When disability is the result of an accident, injury or sickness, occupational therapists can assist an individual with recovery. Utilizing specialized exercise programs and adaptive equipment, our therapist helps increase mobility, strength, endurance and independence in activities of daily living. Common occupational therapy interventions include helping children with disabilities to participate fully in school and social situations, helping people recovering from injury to regain skills, and providing supports for older adults experiencing physical and cognitive changes.
For more information contact Kim Hannan, MSOTR/L at (605) 845-8137.
Home Health and Safety
Fine Motor Skills
Wheelchair Assessment
Self-Care Training:
Dressing, Bathing, Cooking
Energy Conservation Strategies
Adaptive Equipment
Upper Extremity:
Strengthening Programs
Restoration and protection of joints
Post-surgical Rehab
Modalities for Pain:
E-Stim
Ultrasound
Paraffin Bath
Heat & Cryotherapy
Therapy Services:
Stroke
Spinal Cord Injury
Hip Fractures & Replacements
Knee Replacements
Carpal Tunnel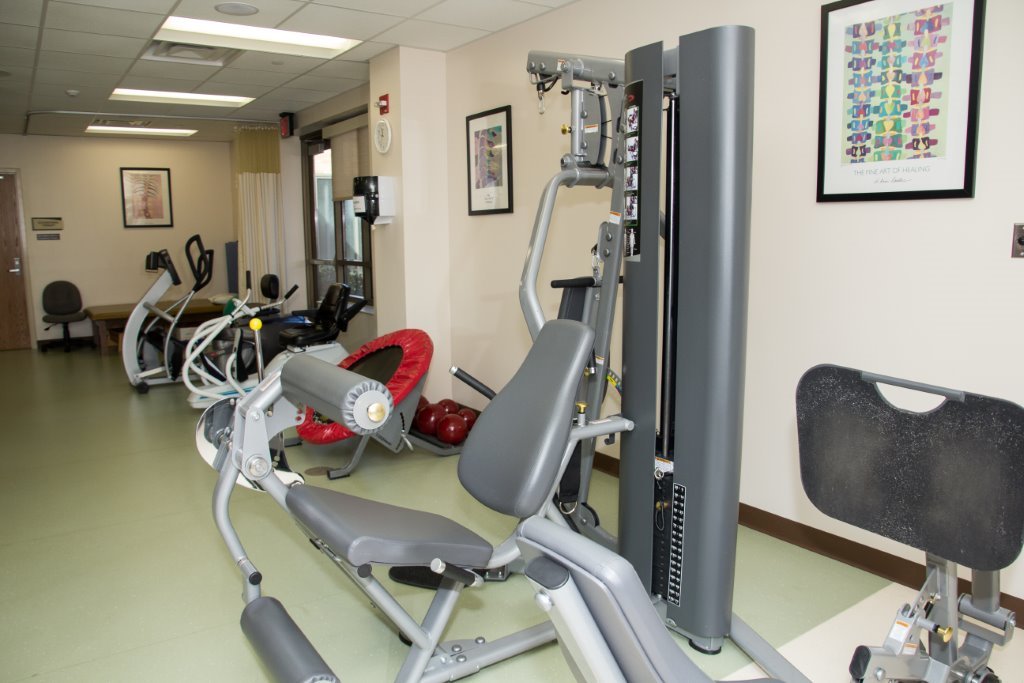 Comprehensive, experienced, patient-centered, trusted. This is what you can expect from the Physical Therapists at Mobridge Regional Hospital and Clinics (MRH&C).
The Physical Therapists at MRH&C have a combined 40 years of experience treating all ages and diagnoses. Our Physical Therapists treat outpatients and inpatients who suffer from disease and injuries which include spinal, muscle, joint and neurological conditions. Treatments include a variety of modalities including ultrasound, electrical stimulation, therapeutic exercise (strengthening, and mobilization), heat and cold.
Our rehab facility is one of the best equipped in the region. Some of our newer services include a multi-gym, which allows for greater strength training and rehabilitation of the upper and lower body, and the Biodex Balance System, which is used for evaluation and training of balance. We also have several Nusteps which provide a total-body cardio and strength workout. UV Light Treatment is also available for individuals who suffer from psoriasis and/or eczema. Therapy is performed in our new department with easy access, a bright and large gym area and 4 private treatment rooms.
The Physical Therapy Incontinence Program offers a conservative, yet effective, approach to solving your incontinence problem. Amy Cerney, DPT, one of the most highly trained Physical Therapists in the region, will work with you on an individual basis to help you regain bladder control.
Nate Bauer, PT, COMT, has extensive training in joint mobilization of the spin and will soon be offering dry needling as well.
Rehabilitation is directed towards the patients goals after a complete evaluation has been performed and many patients will continue independently with a home program for prevention and continued wellness. For more information on Physical therapy services contact Amy Cerney, DPT or Nate Bauer, MPT, COMT at (605) 845-8192.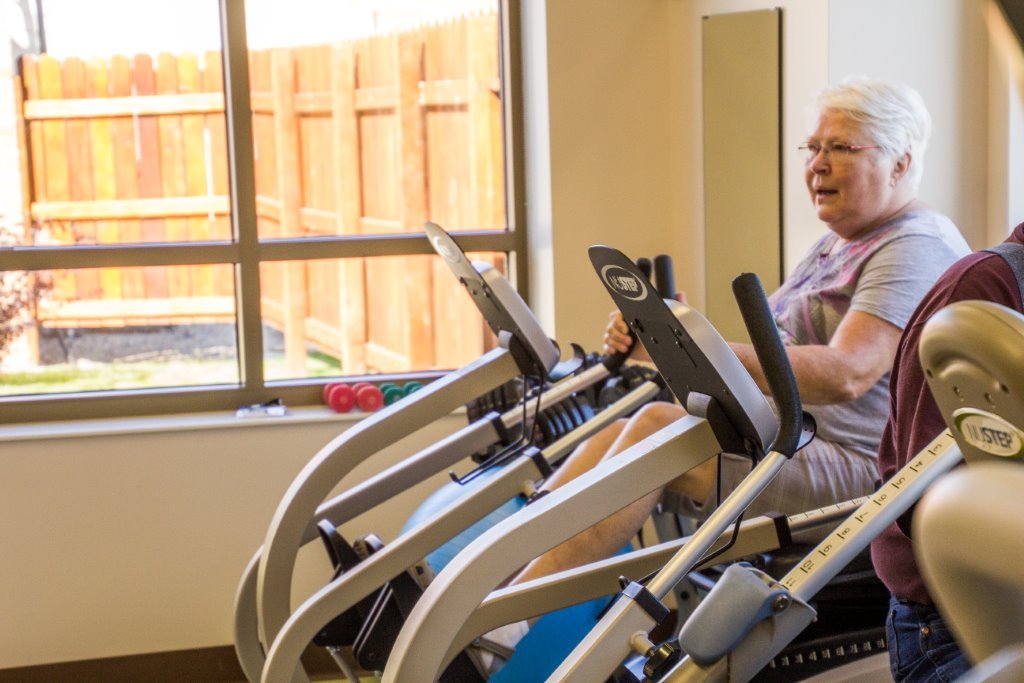 Regular exercise is instrumental in restoring the health of people with pulmonary disease. Our staff will get you started on a safe, individualized exercise program. The areas addressed in this physical fitness program are:
Strengthening respiratory muscles
Controlling shortness of breath
Decreasing panic and anxiety
Increasing exercise tolerance
Increasing feelings of self-worth
Learning to control your social, emotional and occupational needs is part of the rehabilitation process. With the help of our staff, you will learn how to lead a healthier and more positive life. Some of the ways you will accomplish this are through exercise, relaxation techniques and panic control.
Educating you and your family about lung disease is a primary goal of our pulmonary rehabilitation staff. Various topics covered are:
COPD
Dealing with lung disease
Nutrition assessment and guidelines
Medications
Sessions are held every Monday, Wednesday and Friday. A referral from your doctor is required. Patients with any of the following conditions may be eligible.
COPD
Asthma
Bronchiectasis
Emphysema
Any other pulmonary disease/disorder that would benefit from exercise.
Pulmonary Care Services and Rehab is designed solely to help you breathe easier. This program offers a wide range of exercise and education to improve your quality of life and ability to perform daily activites. Our goal is to help you achieve your optimal health. It is covered under Medicare and most insurance plans.
Benefits of Exercise
Improves muscular strength
Promotes a sense of well-being
Improves the efficiency of the heart, lungs and circulatory system
Help with stress management
Helps in maintaining or losing weight
Builds stronger bones
Helps lower elevated blood pressure
Increases self-confidence
Can improve blood lipid Profiles/ (Cholesterol)
For more information contact Deb Brekke, RN, BSN, Director of Pulmonary Care Services at 605.845.8134.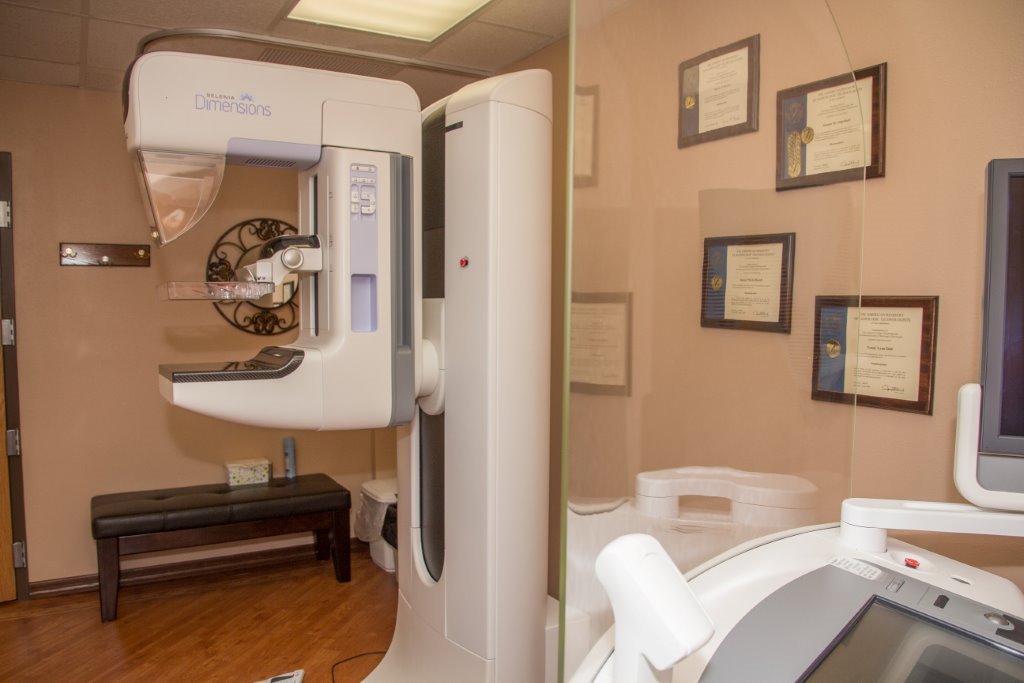 The Mobridge radiology department is continually changing to meet the demands of the ever-changing world of technology. Images are digitally stored and transferred using a PACS (Picture Archiving and Communication System). This allows the department to electronically transfer images to other facilities for continuation of patient care.
Breast cancer will affect one in eight women. Studies prove that early detection is vital part in the success of breast cancer treatment. Current guidelines recommend that women have a screening mammogram every year beginning at age 40. At Mobridge Regional Hospital, specially trained technologists provide this valuable screening with the use of digital mammography.
With digital mammography, the images are electronically stored and transferred to the radiologist. The radiologist can then manipulate the image by adjusting the contrast, brightness and magnifying areas of interest. If you have dense breast tissue, your provider may recommend having a digital 3D mammogram. With this technology, the machine allows the radiologist to view your breast tissue in layers. These 3D images mean earlier detection of small breast cancers that may not appear as well in conventional 2D mammography. This can mean fewer additional imaging and biopsies, clearer imaging of dense breast tissue and greater accuracy in pinpointing size and location of areas of concern. The radiologist can also use CAD (computer-aided detection) as a second pair of eyes, to detect areas on the image for the radiologist to view in detail.
Computed Tomography (CT)
CT scanning creates cross-sectional images to see inside the body which allows our radiologists to evaluate internal injuries or abnormalities. This can be performed with contrast to highlight vessels and organs in the body. Installed in 2015, Mobridge Regional Hospital offers low-dose and state of the art imaging with a 40 slice Toshiba CT unit. The fast imaging allows our patients to spend less time in the scanning suite and less time waiting for results. Included in the scanning unit is industry leading technology to keep radiation dose as low as possible for every patient. The scanner allows the technologist to quickly create 3D renderings of sections of the body at the physician's request. Mobridge Regional Hospital also offers CT Low Dose Chest Screening for current or former tobacco users. Patients can check with their provider to see if they qualify for this life-saving screening exam. This state-of-the-art technology allows our patients to continue their care while staying close to home.
Magnetic Resonance Imaging (MRI)
MRI uses magnetic fields and radio waves to create images of the body without using radiation. MRI is commonly used to evaluate ligament or tendon injuries as well as spinal abnormalities. Mobridge Regional Hospital provides MRI imaging once a week through a mobile MRI unit.
Ultrasound
Ultrasound uses high frequency sound waves to create images of vessels and internal organs. It is also used during pregnancy to image the developing fetus. Mobridge Regional Hospital provides ultrasound imaging ranging from echocardiograms to obstetrical ultrasounds. Ultrasound can often be used in place of other imaging modalities that use ionizing radiation.
Nuclear Medicine
Nuclear medicine uses small amounts of radioactive isotopes to image selected portions of the body. The isotopes are injected into the body and are collected by the portion of the body to be imaged. The uptake of the isotope allows the radiologist to detect disease or other pathology in patients. Nuclear Medicine exams at Mobridge Regional Hospital include nuclear medicine stress tests of the heart, HIDA scans of the gallbladder as well as many others.
Bone Density (DEXA Scan)
A DEXA scan is used to evaluate the bone density of an individual. This test is used to evaluate and diagnosis osteoporosis in patients. It is also used to determine a patient's risk for a fracture in the future.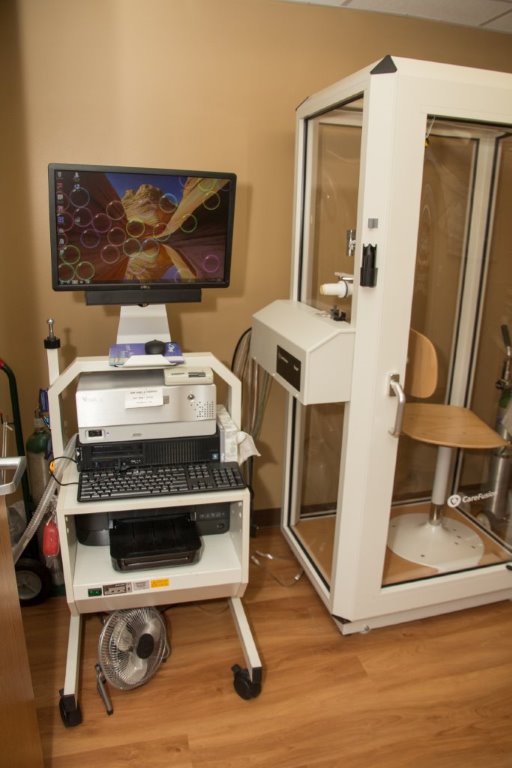 A Respiratory Therapist monitors and manages patients with breathing disorders or cardiovascular problems. They treat all types of patients from premature infants whose lungs have not fully developed, to elderly people with lung disease.
They often provide temporary relief to patients with chronic asthma or emphysema, along with teaching patients about the disease and its process. Respiratory Therapists also provide emergency care to patients who are victims of a heart attack, stroke, drowning or shock.
Care provided includes:
Administration of oxygen
Cardiopulmonary Resuscitation
Management of mechanical ventilators
Administering drugs to the lungs
Monitoring cardiopulmonary systems and measuring lung function
In-Patient care (nebulizers, inhalers, modified pulmonary stress testing)
Breathing techniques
Pulmonary Function Testing
Pulmonary Rehabilitation
Respiratory Disease Education (COPD, Asthma, Restrictive Lung Disease)
Oxygen tank pick up
Cardiac stress testing
Halter monitoring
BiPAP/CPAP
Scheduling sleep studies
The sleep center at Mobridge Regional Hospital helps individuals with sleep disorders achieve more normal sleep patterns. The Sleep Center provides comprehensive clinical evaluation, diagnosis and management of adolescents and adults with sleep disorders. Our center's services are provided by professionals experienced in sleep-related disorders.
A sleep study (polysomnogram), is an overnight procedure designed to monitor and record the various changes in the body during sleep. Prior to the study, the patient must participate in an evaluation consisting of completing a questionnaire and a history and phsycial exam. A history of sleep patterns and difficulties will be obtained. The patient then retires in a comfortable private bedroom. Recording sensors are applied and a qualified polysomnographic sleep technologist monitors the patient's sleep. The technologist is continuously available should a patient require assistance. Brain waves, muscle activity, body position, breathing, heart rhythm and oxygen levels in the blood are some of the activities monitored during the study. Upon completion of the overnight recordings, the data from the study is reviewed by board certified sleep specialists for interpretation and report.
It is highly recommended that a patient be evaluated by a board certified sleep specialist before obtaining a sleep study, however we do accept referrals from other physicians. We will need pertinent information regarding the patient's problems with sleep as well as recent laboratory informaiton. This information must be less than six months old. You must also have completed a sleep questionnaire concerning your medical, psychological and sleep history. All of this information will be reviewed by our sleep specialists. Initial consultations can be completed by the patient's primary physician. Sleep studies must be ordered by a phsycian.
Restful sleep is very important to your health. Sleep is a time for the mind and body to renew and restore. It is eastimated that two out of every five Americans have a serious sleep disorder. Excessive daytime sleepiness, falling asleep at inappropriate times and snoring are the predominant symptoms of most disorders.
Anyone persistently exhibiting any of the following symptoms or conditions should consider evaluation by a phsyician trained in sleep medicine:
Excessive sleepiness
Snoring loudly
Difficulty falling asleep or staying asleep
Irregular breathing during sleep
Awakening with choking or gasping for breath
Sleep walking, sleep talking, nightmares
Restless sleep
Not feeling refreshed
Falling asleep at inappropriate times
Temporary weakness of body or speech with strong emotions
Having sleep related seizures
Difficulty with working nights or rotating shifts
Repeated movements or twitching of the legs or arms during sleep
Dissatisfaction with the amount or quality of sleep
Difficulty with winter-time sleepiness or depression
If you are interested in setting up a sleep study with our facility or have any questions please contact Kallyn Reinert RRT at (605)845-8163.
The Swing Bed Program incorporates skilled nursing with rehabilitation to help our patients meet their maximum potential prior to leaving our facility. Swing Bed patients receive specialized care and recuperate in a caring, professional environment.
Why is it called Swing Bed?
The Swing Bed Program allows your physician to "swing' your level of care from "acute" to "skilled" rehab while you rehab in the hospital. If you would require acute care again you can be "swung" back into acute care.
Who needs Swing Bed?
When a patient reaches the point in recovery where acute care hospitalization is no longer necessary, but they are not physically able to go home; Swing Bed is a positive intermediary step. Some examples of swing bed patients include:
Recovery from major surgery

Repeated hospitalization

Recovery after a major accident or stroke

Pain Management

Wound Care

Nutritional therapy

Physical/Occupational/Respiratory therapy

Terminal Care

IV Therapy

Diabetes Management

Patient Education
Who Qualifies for Swing Bed?
You must have atleast a three day stay as an acute care patient before transitioning to the Swing Bed Program. you must hav a skilled nursing need and'or require rehabilitative therapy. There are no age restrictions to the program.
How can I pay for this service?
The Swing Bed stay can be paid in a variety of ways, such as Medicare, Medicaid and worker's compensation. Also, some nursing home insurance policies pay for Swing Bed care. Our insurance department can answer any questions you may have. The cost of Swing Bed care per day is comparable to nursing home costs.
Benefits of the Swing Bed Program
Patients will be given the best care in a hospital setting and with the possibility of being seen more frequently by their physician. you will have more time to recover and gain strength before leaving the hospital. Daily therapy is centered on self- care skills and body strengthening, which will increase your independence when you leave.
Mobridge Regional Hospital provides patients with a variety of surgical services to include:
Surgery with laparoscopic techniques:
Cholecystectomies (gallbladder)
Appendectomies
Hernia repairs
Tubal ligations
Hysterectomies
Bowel resections
These procedures are less invasive and require small incisions so patients recover much faster and with less pain than with open procedures.
We also perform:
Eye surgeries
Orthopedic procedures to include (but not limited to) knee scopes, carpal tunnel release, and podiatry
C-sections
Colonoscopies
EGDs
Breast biopsies
Lumpectomies
Many other procedures
Our Anesthesia providers are trained in a variety of Pain Management techniques and work diligently to minimize post-operative pain without opioid use. Please contact your home town provider to schedule any of above or inquire about any other services we could perform here in Mobridge. Our hospital has been designated as one of the top 100 Critical Access Hospitals in the nation and we are proud to serve all our community and patients in a compassionate and professional manner.
Mobridge Regional Hospital and Mobridge Medical Clinic offer many services through Telemedicine. Telemedicine allows patients to have access to specialty services at our facilities through two-way video technology. Patients experience face to face visits with specialists right here in Mobridge. Through this technology specialists have the ability to listen to patient's heart and lung sounds and perform visual assessments through a high definition camera.
Patient benefits include local access to specialty-level care, saved time from work or school, and saved travel expenses.
Mobridge Regional Hospital and Mobridge Medical Clinic offer the following Telemedicine Services:
Adult and Pediatric Psychiatry
Endocrinology
Gastroenterology
Hepatology
Infectious Disease
Neurology
Pediatrics
Pulmonology
Wound Care